---

---
Welcome to Lamar County, Georgia, a place of growth and development filled with tradition and small town values. Lamar County, with rolling landscapes and pecan and peach groves, is a fantastic place to raise your family, start your business, or establish an industry.
Located in west central Georgia, just south of Atlanta and north of Macon along several major highways, Lamar County is a short commute for residents working in these areas or businesses transporting goods throughout the southeast.
Lamar County was founded on November 2, 1921 and was named after Lucius Quintus Cincinnatus Lamar, who served multiple terms as a United States Congressman, became a U.S. Senator, Secretary of the Interior under President Grover Cleveland and associate justice of the U.S. Supreme Court.
The county seat, Barnesville, was well known as the "Buggy Capital of the South" in the late 1800s and early 1900s. Barnesville had four buggy companies; most notably, the J.G. Smith and Sons Genuine Barnesville Buggies Factory. Since its beginnings over 25 years ago, the "Barnesville Buggy Days" festival has grown to become one of Georgia's largest community festivals. Held annually the third weekend in September, the festival attracts more than 50,000 people and features crafts and a parade displaying original Barnesville Buggies.
Lamar County Notifications
Board of Commissioner Nancy Thrash had breakfast at the White House while attending the Economic Development Conference for the National Association of Counties (NACO). Commissioner Thrash currently serves as a Board Member on the NACO Board representing the Association of County Commissioners of Georgia ( ACCG).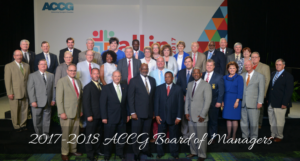 Lamar County Board of Commissioners, on behalf of a grateful community, thank Captain Daniel L. Rainey, Jr. for this most generous and patriotic gift of the Holiday Ensign that was flown from the mast of the USS SAVANNNAH (AOR-4) on September 17, 1987, Constitution Day and it is raised at the Lamar County Courthouse for the first time on September 18, 2017, Constitution Day.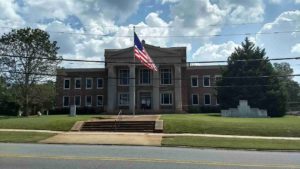 LAMAR COUNTY WAS AWARDED $750,000.00 FROM A COMMUNITY DEVELOPMENT BLOCK GRANT (CDBG) to BUILD A NEW HEALTH DEPARTMENT.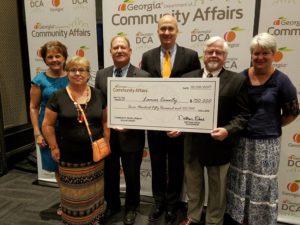 County Commissioners of Georgia were invited by the President of the United States of America, Donald Trump, to the White House. Commissioner Nancy Thrash is Lamar County's Legislative Delegate , Member of the Board of Mangers for the Association of County Commissioner's (ACCG) and Board Member of the National Association of County Commissioner's (NACO).