---

---
Welcome to Lamar County, Georgia, a place of growth and development filled with tradition and small town values. Lamar County, with rolling landscapes and pecan and peach groves, is a fantastic place to raise your family, start your business, or establish an industry.
 Lamar County Notifications
The Lamar County Regular Business Meeting has been changed from June 19th, 2018 to June 21st, 2018.  The meeting will be held at 7:00 p.m. at the Lamar County Courthouse 326 Thomaston Street. Budget Workshops for Lamar County will begin on June 11th, 2018. June 11th, 2018 1:00 p.m. June 12th, 2018 1:00 p.m. June 13th, 2018 1:00 p.m. June 14th, 2018 9:00 am. ( Budget Workshop and Regular Workshop) Please see the Lamar County Agendas and Minutes under Government for each agenda.
The New Dump Truck and Patcher for the Public Works Department………………………..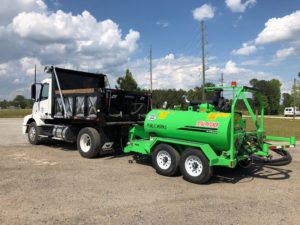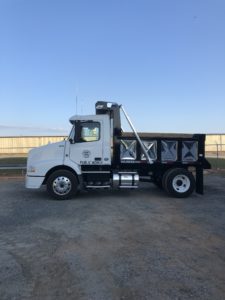 PRESS RELEASE:
Lamar County is going to begin the upgrade/repaving of Industrial Road from Old Milner Road to Jordan Lumber on Monday, March 5th. This project will involve deep reclamation of the existing pavement, repacking of the base material, and extra strong asphalt being applied for the surface. It will also involve repairing/replacing all culverts under the road and creating "stacking lanes" at both ends of the project. The stacking lanes will allow trucks to pull off and not block traffic if they get backed up while they wait to unload.During construction at least one lane will remain open but delays are likely. We have worked with Blount Construction to minimize the disruption and complete the project as quickly as possible. All of the businesses in the Industrial Park have been notified of the project and potential delays. We ask that citizens recognize the complexity of this project and help us by avoiding the area if possible and showing plenty of patience if they do get delayed. In the end this project will benefit all of us by reducing maintenance costs and enhancing the efficiency of traffic in the Industrial Park. This $1.6 million project is being funded by a combination of SPLOST pennies, Lamar County's portion of fuel taxes, and a $300,000 grant from DOT. One of our primary goals was to provide a long-life road surface to access the industrial park. Our engineers assure us this design should last 20 years even with the extreme loads and traffic it will see every day. We are excited about investing in our future and look forward to the ribbon-cutting ceremony in a few months.
Any questions or requests for further details should be directed to the County Administrator, Mr. Bob Zellner, at 770-358-5146
The Lamar County Public Works Department has begun taking down the trees on 118 Academy where the new Lamar County Health Department will be located.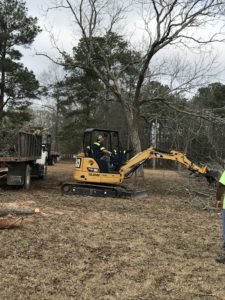 LAMAR COUNTY WAS AWARDED $750,000.00 FROM A COMMUNITY DEVELOPMENT BLOCK GRANT (CDBG) to BUILD A NEW HEALTH DEPARTMENT.