---

---
Welcome to Lamar County, Georgia, a place of growth and development filled with tradition and small town values. Lamar County, with rolling landscapes and pecan and peach groves, is a fantastic place to raise your family, start your business, or establish an industry.
Located in west central Georgia, just south of Atlanta and north of Macon along several major highways, Lamar County is a short commute for residents working in these areas or businesses transporting goods throughout the southeast.
Lamar County was founded on November 2, 1921 and was named after Lucius Quintus Cincinnatus Lamar, who served multiple terms as a United States Congressman, became a U.S. Senator, Secretary of the Interior under President Grover Cleveland and associate justice of the U.S. Supreme Court.
The county seat, Barnesville, was well known as the "Buggy Capital of the South" in the late 1800s and early 1900s. Barnesville had four buggy companies; most notably, the J.G. Smith and Sons Genuine Barnesville Buggies Factory. Since its beginnings over 25 years ago, the "Barnesville Buggy Days" festival has grown to become one of Georgia's largest community festivals. Held annually the third weekend in September, the festival attracts more than 50,000 people and features crafts and a parade displaying original Barnesville Buggies.
Lamar County Notifications
There will be a Lamar County Board of Commissioner Workshop on February 15th, 2018 at 1:00 P.M. Attached is the agenda.
2-15-2018 Workshop Agenda
NEWS FROM THE LAMAR COUNTY EXTENSION OFFICE
The Barnesville Lamar County Library held it's Grand Re-Opening on Friday, January 19th, 2018
In 2017 Lamar County Implemented a Wellness Program for all County Employees. Corporate Health Partners reported that December was a busy month with follow up coaching, healthy breaks and planning for challenges to begin in January with many employees reporting that they are trying to maintain some healthy behaviors throughout the holiday season.
Registration-Dec. 2017 through Jan. 26th 2018*
Fee- $65.00 (Due at time of registration- Cash/Debit/Credit Card Only)
Practices- 2 Days a week starting in February
Games- Opening Day Saturday March 3rd 2018
(Season will end around early May 2018)
Sign up at the Lamar Rec Office located at 112 Andrew Drive Barnesville, GA 30204
Mon-Fri. 8:30am-5:30pm
Lamar County Board of Commissioners, on behalf of a grateful community, thank Captain Daniel L. Rainey, Jr. for this most generous and patriotic gift of the Holiday Ensign that was flown from the mast of the USS SAVANNNAH (AOR-4) on September 17, 1987, Constitution Day and it is raised at the Lamar County Courthouse for the first time on September 18, 2017, Constitution Day.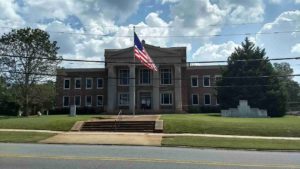 LAMAR COUNTY WAS AWARDED $750,000.00 FROM A COMMUNITY DEVELOPMENT BLOCK GRANT (CDBG) to BUILD A NEW HEALTH DEPARTMENT.