---

---
Welcome to Lamar County, Georgia, a place of growth and development filled with tradition and small town values. Lamar County, with rolling landscapes and pecan and pine trees, is a fantastic place to raise your family, start your business, or establish an industry. Home is Just Better Here!
 Lamar County Notifications
ATTENTION ROAD CLOSURE
High Falls Road over 1-75 in Jackson, Georgia. The bridge closures are part of the Georgia Department of Transportation project M005670 for bridge rehabilitation. Please be aware that the High Falls Road bridge that will be closed is the road without access to 1-75, not the bridge at the 1-75 Exit 201 Interchange. The bridge will be closed to traffic and detoured on the weekends starting Friday evening April 5th, 2019 and will continue every weekend until possibly Monday morning July 1st 2019, if not sooner.   The weekly closures will begin Friday evenings at 5:00 PM until Monday mornings at 7:00 AM. The bridge will be open to through traffic during the week but could have one-lane flagging closures at times. This schedule is all weather dependent and if there happens to be inclement weather on a particular weekend, the bridge closure will not take place. Our intent is to complete the bridge work as soon as possible. Click on Link to access the MAP.
GDOT Project M005670 High Falls Road Detour
The New Lamar County Health Department is making progress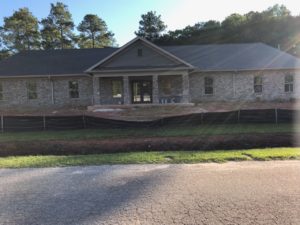 The United States Census is looking at hiring over 100 additional employees, full and part time in Lamar County starting at $14.50/hour.  Applicants can apply online for 2020 Census jobs at
2020census.gov/job.   
Great pay, flexible hours, weekly pay and paid training    For more information call 1-855-job-2020
Applicants must:
Have a valid email address to apply
Be a U.S. Citizen
Be 18 years of age or older at the time of hire date
 Be registered for Selective Service, if a male born after 12/31/1959
 Pass a background check with fingerprints if elected for employment
 Have a valid social security card